Reflection on my first solo game
---
I'm approaching a full year (in March!) of being in pandemic mode - I haven't seen the in-person face of my friends since that time. We haven't strayed further than a walk from the house for groceries or essentials since then. For many reasons I find my energy levels low (can probably consistently peg'em at "exhausted") - I'm trying to conserve what energy I have for a project that can hopefully help support my family financially, so Read Play Game won't be getting nearly as much attention "post launch" as I'd originally intended.

Read Play Game was always a fun project for me to make and to learn new things while doing, it was never intended to contribute financially to payin' the bills. For my own benefit, I contrast my disappointment (that I just don't have the energy right now) against all of the great things I accomplished while creating Read Play Game.
I got to get familiar with itch.io

It's a great platform, really enjoy it, and it will be my go-to first platform for my next game
I've already launched a game on Steam as part of a company, so I'm already familiar with it (thus, with little to learn from that experience, I won't be pursuing that for Read Play Game right now as I originally intended for funsies)

First time use of free (or paid, if I ever make money, but at very reasonable costs) Microsoft services that I can leverage for cool things like cross-platform cloud saving

Everything I had been familiar with was incredibly mobile focused, while mobile's still an emphasis on Microsoft's services I found them to be easier to work with outside of the mobile game space
Next game will have a mobile version so I look forward to easy-mode service implementation there ;)

Genre Agnostic Systems!

I'd estimate somewhere around half the work I put into Read Play Game can be directly used (without additional accommodations for a game to not be Read Play Game) by next project, and any future project!

Took me out of my comfort zone

Game development is a wide-wide world, there are some types of tasks that even after 15 years I simply never ended up taking on - I got to tackle some of them with Read Play Game!
There's more but after that last one I feel good enough that I'll move on :)
One of the conscious decisions I made was to spend absolutely $0 on user acquisition or general marketing. As someone who isn't terribly active in social media I was curious how much of a pull Read Play Game would get outside of my friend circles.



What you're seeing right there is exactly how much attention Read Play Game gets from my twitter account, haha. That or gilroygames.ca online journal updates, but given that those analytics look something like...




... oh hey, 2 people visited the site today and only 1 was me! That's neat, but also I suspect that's also being driven by my twitter account and not inherently something I get out of simply having a website exist. So as I was typing this I thought to myself "why don't I just go look"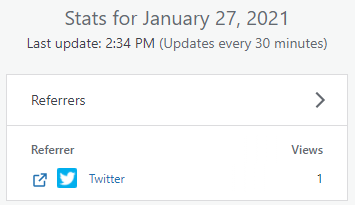 Yup, twitter :)
Speaking of twitter, I learned some things about promotion on there too. Big take-away: I'm not good at it *waves at 40~ followers* - but that's okay, for the next game I'm going to use the crutch of my user acquisition experience. I also learned some things about how I want to manage that public side of things. There's an idea that personal/professional spaces need to be rigorously defended from one another, I don't think that idea works for me.

Gilroy Games is a registered business name, and I can do business with that name. That's cool - but also, Gilroy Games is me. It allows me to make business transactions without supplying my personal Social Security information, and I enjoy the alliteration. Otherwise, I'm no different a human thus don't see much of a reason for Gilroy Games to take on its own persona. Everything you see from Gilroy Games or my personal social media is... me.
I want to keep that, so thanks to Read Play Game I know that's a thing I want.
Anyway - if you've made it this far and enjoyed Read Play Game and have ideas or suggestions, please feel free to drop'em in a comment or toss them my way on social media! I may not be making space for it right now (there's so little space right now), but whether its months or years down the road I definitely want to leverage my ability to update the game to grow it even further.

Thanks for being on this journey with me, even if you only appeared in analytics ;)
That journey's not over, but it is at rest for now.